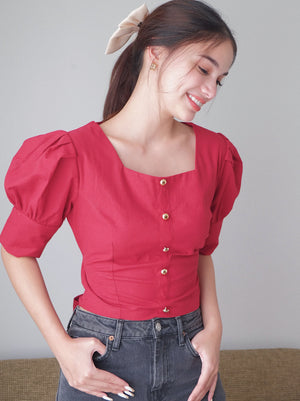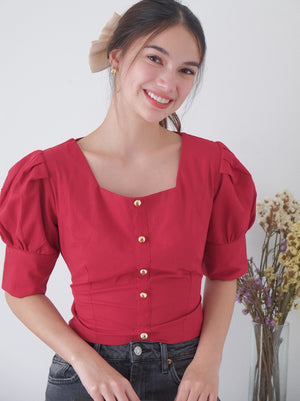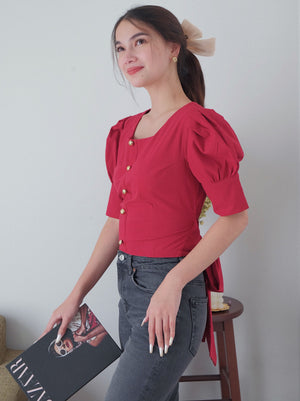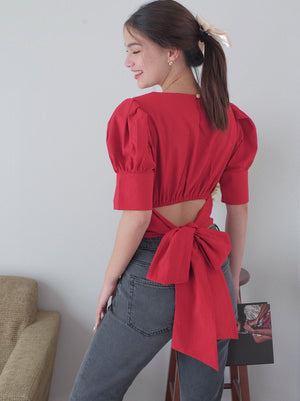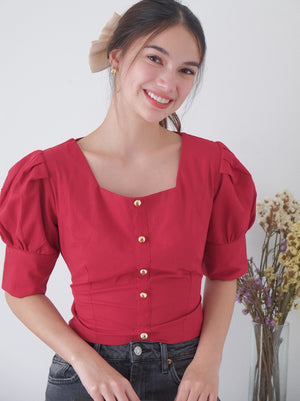 The Madeline top - berry red
Introducing the Madeline Top – Your Epitome of Elegance
Elevate your style with our Madeline Top, a quintessential piece that embodies timeless elegance. This Korean Square Neck Blouse is the epitome of sophistication, available in two stunning shades: pistachio green and berry red. Let's delve into why this blouse is the perfect addition to your wardrobe this season.
**Korean Square Neck**: The Korean Square Neck design is a harmonious blend of modern and classic elements. Its structured lines and unique shape add a touch of uniqueness to your ensemble, making you stand out in any crowd. It's a neckline that exudes grace and poise.
**Back Bow Tie**: What truly sets the Madeline Top apart is the delicate bow tie at the back. This charming detail not only adds a dash of femininity but also allows you to adjust the fit to your liking. You can choose to tie it in a cute bow or let it hang freely for a more relaxed look.
**Pistachio Green and Berry Red**: We've carefully curated two exquisite colors to suit your preferences. The soft, refreshing pistachio green brings a sense of tranquility and rejuvenation to your style, perfect for those days when you want to embrace nature's beauty. On the other hand, the deep and luxurious berry red exudes passion and warmth, making it ideal for those special occasions or romantic evenings.
**Perfect for This Season**: The Madeline Top is not just a fashion statement; it's designed to be seasonally versatile. The pistachio green welcomes the fresh and revitalizing vibes of spring, while the berry red encapsulates the cozy, romantic atmosphere of autumn. This blouse adapts effortlessly to the changing seasons, ensuring you're always in vogue.
Whether you're heading to a sophisticated soirée, a day at the office, or a casual weekend brunch, the Madeline Top is your go-to choice. It's not just a blouse; it's a symbol of your refined taste and love for timeless fashion.
Don't miss the opportunity to add this impeccable piece to your collection and make every day a fashion statement. Elevate your style with the Madeline Top – where elegance meets versatility.
full length: 17"  
Fabrice: viscose linen blend 
Model's height: 5' 5" wearing  S
Vital stats:
Bust: 33
Waist: 24
Hips: 34
| Size | Bust | Waist | Hips |
| --- | --- | --- | --- |
| XS | 30-32 | 24-25 | 32-33 |
| S | 33-34 | 26-27 | 34-35 |
| M | 35-36 | 28-29 | 36-37 |
| L | 37-38 | 30-31 | 38-39 |
| XL | 39-40 | 32-33 | 40-41 |
| XXL | 41-42 | 34-35 | 42-43 |
 PLEASE READ CAREFULLY BEFORE YOU PURCHASE

* Size replacement is strictly not allowed. We strongly suggest that you measure yourself first before choosing a size. If you're not sure about your size choose the bigger size or contact us.
* We do not allow return & exchange of items unless the item is damaged upon purchase. We will only accommodate returns and exchanges for damaged items within 5 days of the purchase date.
* Kindly ensure that tags are still intact. 
* Kindly send us the item(s) first so we can process the shipment of the replacement.
* Please email us your reason/s and photo/s of the damaged item at ordes@sunnysideclothingph.com
*Our returns and exchanges policy is not applicable to sale items.